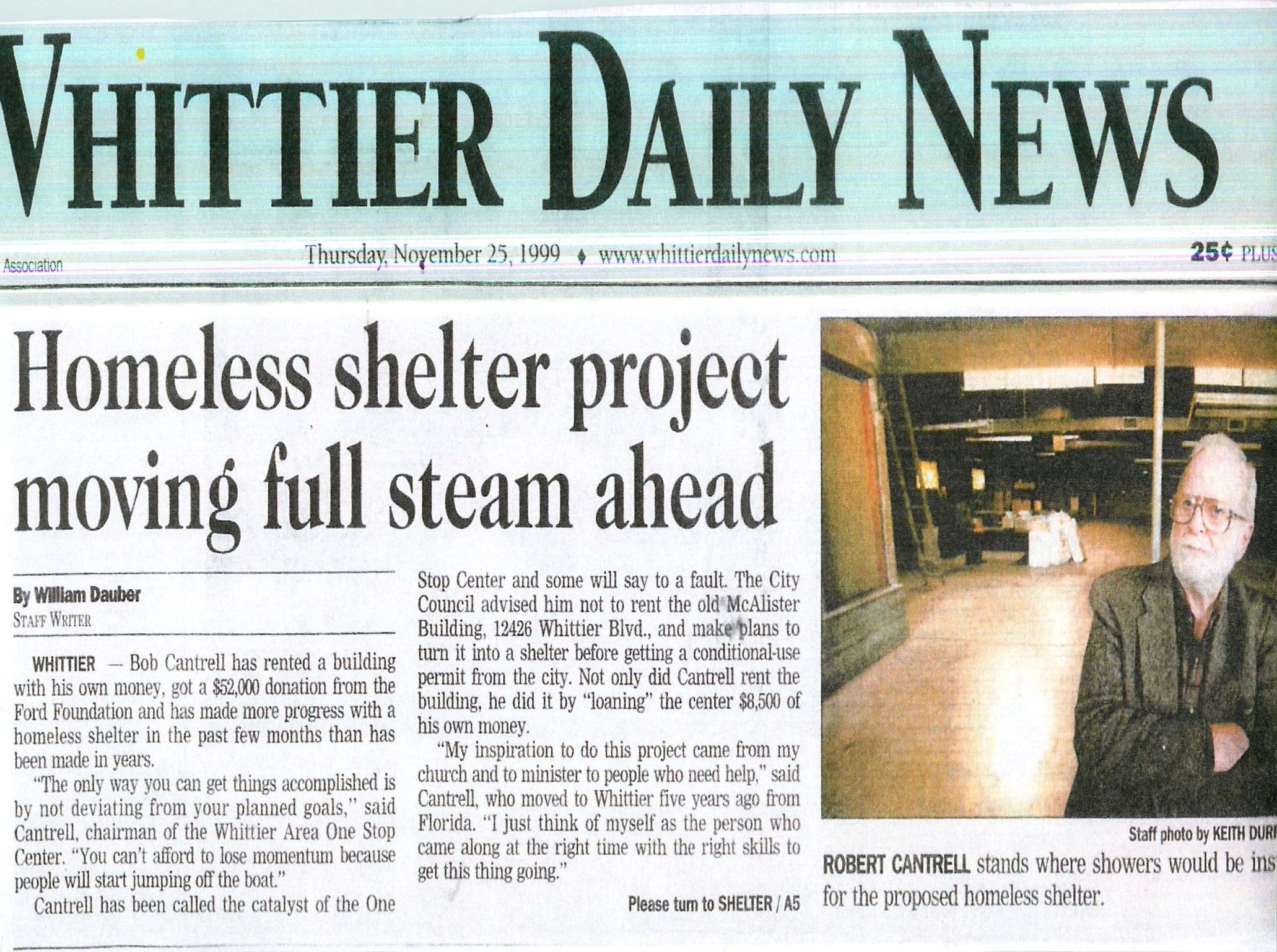 Throughout nearly 25 years of service, community collaboration has been a key value for Whittier's First Day. Founded in 1989 as the Social Services Coalition (SSC) by the Whittier Area Interfaith Council, the City of Whittier, and the Whittier Salvation Army, the organization initially coordinated cold weather shelter and referrals for services. Rotating sites among local churches every two weeks, SSC offered overnight shelter, dinner, and breakfast for homeless individuals during the winter months. SSC's success in addressing this urgent need for shelter motivated its leadership to further develop local homelessness and prevention services. In 1994, SSC became a 501(c)(3) nonprofit organization, serving around 700 clients annually.
Though SSC's formal establishment expanded services, the Greater Whittier Area still lacked a local year-round shelter with co-located supportive services. Thus, in 1999, SSC began collaborating with the Whittier Area One Stop Center, another local nonprofit addressing homelessness, to create a major services center for homeless and at-risk individuals and families. In 2001, with the support of the City of Whittier and the community, SSC and the One Stop moved into a new facility together, and in 2002, the two agencies officially merged to form First Day.
Today, First Day serves approximately 2,300 unduplicated individuals through outreach, homelessness prevention, housing, health, advocacy, and other services on behalf of our clientele. We also serve the Greater Whittier network of providers and community members as a leader in cross-sector convening, information sharing, and volunteer coordination. As our influence continues to grow, we remain committed to stakeholder engagement and responsiveness to meeting critical needs in our community.