First Day has become like a family to me over the years. I'm thankful for their support.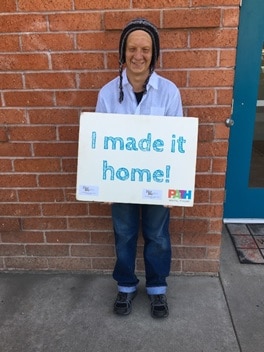 David is a chronically homeless individual who experienced homelessness in Los Angeles County. He has been an able-bodied, adaptable, and resilient person throughout his life. For David, his challenge was not finding permanent housing, but rather finding permanent, stable and sustainable housing.
Whenever David experienced homelessness, he could easily find a blue-collar job, save money, and then find some home. He had no issues regarding mental health, physical health, or substance abuse; just a string of bad luck with jobs at businesses which often went bankrupt or merged with a larger company and subsequently laid off a large percentage of their blue-collared workers, one of them being David. A loss of income would lead to a loss of housing and David would be thrown back into the cycle of homelessness once more.
His last and longest episode of homelessness was the most unfortunate. He had found himself a good job and a nice home. In 2012, after almost a year of finding stability, David was injured in accident and was hospitalized. As a result, David was not only homeless and jobless, but also found himself with medical debt of more than $20,000.
David became one of the first and longest clients of Whittier First Day Outreach in 2013. He participated in many of Whittier First Day's programs and took advantage of many of the services that were offered. He got connected to employment training services and was connected to legal services that helped him address his medical debt to a point where his debt was virtually forgiven. He even took advantage of the housing programs which allowed him to secure a housing voucher. Unfortunately because of income requirements and the lack of affordable housing, David lost his housing voucher, taking a huge toll on him. After all that he had done right, he felt that he was always "left in the gutter."
But in 2015, a new form of hope came into David's life: he met someone. They connected instantly and a year later, they were engaged. Because his fiancée lived in Massachusetts, David rediscovered a new drive to save up money and be united with the love of his life. After taking on temporary jobs and recycling, David was able to acquire a sizable savings. He was connected to a rapid rehousing program that provided family reunification and provided assistance for shipping costs and a plane ticket.
Today, David is now housed in Massachusetts, happier than ever, with his new wife, Elaine.